伽太科技 提供Indie(formerly known as Silicon Radar GmbH)24GHz,60GHz,120GHz及300GHz收发芯片及开发评估套件,现货销售

量产产品
120 GHz Transceiver: TRA_120_002(7GHz带宽)
120 GHz Transceiver :TRX_120_001(7GHz带宽)
120 GHz Transceiver :TRX_120_067(7GHz带宽)
120 GHz Transceiver :TRA_120_045(20GHz带宽)
300 GHz Transceiver :TRA_300_030(20GHz带宽)
300 GHz Transceiver :TRA_300_030(20GHz带宽)
300 GHz Transceiver :TRA_300_042(35GHz带宽)
24 GHz Low Noise Amplifier: LNA_024_005

24 GHz Receiver :RX_024_004
24 GHz Transceiver: TRX_024_006 / 007
24 GHz Transceiver :TRX_024_046
联系:sales@gamtic.com,185 0219 3480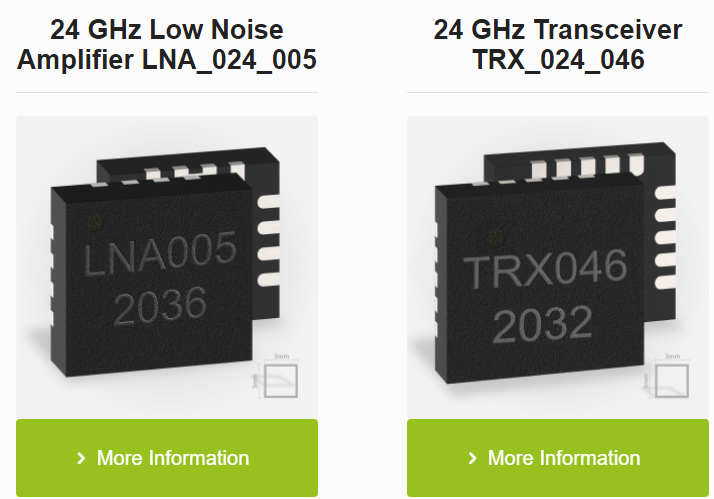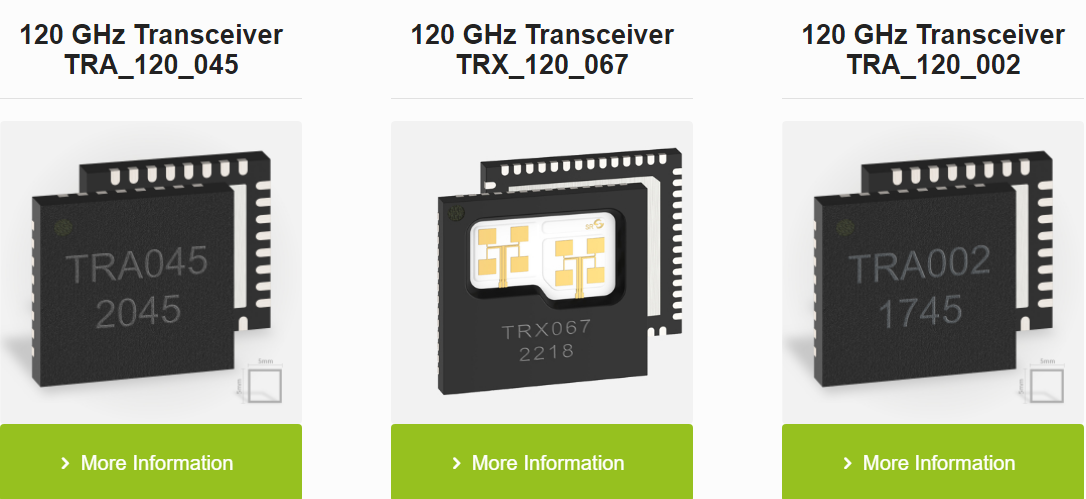 在研产品一览
| | | | | |
| --- | --- | --- | --- | --- |
| 产品简介 | 频率 | 型号 | 天线类型 | 描述 |
| 4通道收发器 (2TX / 4RX) | 24 GHz | T2R4_024_020 | 外置 | 角坐标测量 |
| 单站收发器 | 60 GHz | TRM_060x | 外置 | 集成天线 |
| 双通道发射 (1TX / 2RX) | 60 GHz | TR2_060x | 外置 | 角坐标测量 |
| 4通道收发器(4TX / 4RX) | 60 GHz | T4R4_060x | 外置 | 3D探测应用 |
| 宽带收发器 | 120 GHz | TRA_120_045 | 片上集成 | > 20 GHz 带宽 |
| 宽带收发器 | 300 GHz | TRA_300_042 | 片上集成 | > 35 GHz 带宽, 配置硅透镜 |
EvalKits雷达评估套件 122GHz雷达开发评估套件
该系列雷达开发评估套件适合初学者,高校科研机构教学或研究应用。即学即用,灵活方便。
联系:sales@gamtic.com,185 0219 3480
EVALKIT SiRad Easy r4
122GHz雷达开发评估套件
Compact Size – Exchangeable Front Ends
SiRad Easy® r4 is an advanced and comprehensive system to evaluate our radar front ends. It is the successor of the SiRad Easy® featuring improved processor power and new connectivity in a smaller form factor. In combination with the included software it provides you with a functional radar system including a large range of functions – well beyond what you find in a simple test board.
Scope of Delivery of StarterKit套件包含:
Reflector to narrow beam and extend range

Radar front end board with TRA_120_002 @ 120 Ghz / TRA_120_045 @ 120 Ghz(20GHz带宽)

(可选配置TRA_300_042, 300GHz太赫兹前端)


Base board with microcontroller

USB cable

Download link for software and documentation
The Starter Kit is a good beginning for your research. You can expand it later with additional components.
Scope of Delivery of EvalKit套件包含
All components from StarterKit (see above)

Radar front end board with TRX_024_046 @ 24 GHz

Breakout board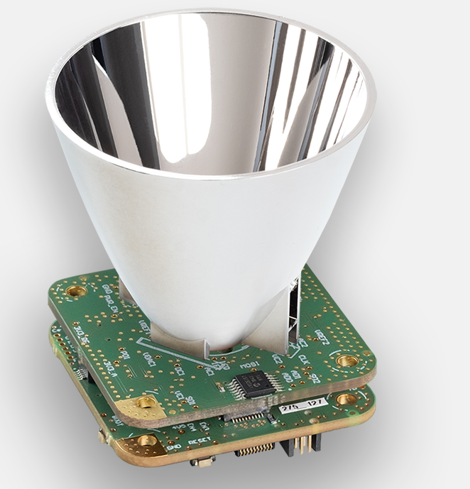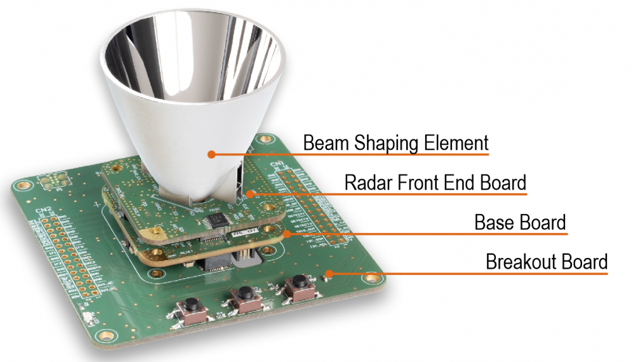 SiRad Easy® 122GHz雷达开发评估套件
SiRad Easy® is perfectly suited to evaluate all of our TX/RX radar chips. Its small size (100 x 70 mm), rich functionality and open communication protocol make it easy to use. Great for beginners and pros who want to start development and tweak system parameters.
主要特点
programmable FMCW parameters

signal processing

target recognition

web-based GUI

USB communication with PC or over wireless LAN



SiRad Easy includes
1x 122 GHz radar front end (see photo above)

1x 24 GHz radar front end (see lower photo)

1x controller board

1x baseband board with WiFi

1x lens for 122 GHz



The install package is password-protected. Please contact our support.
SiRad Simple
SiRad Simple is perfect to evaluate our 122 GHz radar front end. It has the same functionality as the SiRad Easy but due to its ultra-compact size (40 x 40 mm) it could even be used as a fully functional WiFi-enabled radar sensor with integrated target recognition!
产品联系:伽太科技,sales@gamtic.com,185 0219 3480.
主要特点:
programmable FMCW parameters

signal processing

target recognition

web-based GUI

USB communication with PC or over wireless LAN



SiRad Simple® includes套件包含
1x SiRad Simple® module with WiFi

1x 122 GHz radar front end

1x lens for 122 GHz
Indie(formerly known as Silicon Radar GmbH)芯片型号

120 GHz Transceiver: TRA_120_002(7GHz带宽) TRA-120-002
120 GHz Transceiver :TRX_120_001(7GHz带宽) TRX-120-001
120 GHz Transceiver :TRX_120_067(7GHz带宽) TRX-120-067
120 GHz Transceiver :TRA_120_045(20GHz带宽) TRA-120-045
300 GHz Transceiver :TRA_300_030(20GHz带宽) TRA-300-030
300 GHz Transceiver :TRA_300_042(35GHz带宽) TRA-300-042
24 GHz Low Noise Amplifier: LNA_024_005 ,低噪放芯片 LNA-024-005

24 GHz Receiver :RX_024_004
24 GHz Transceiver: TRX_024_006 / 007
24 GHz Transceiver :TRX_024_04